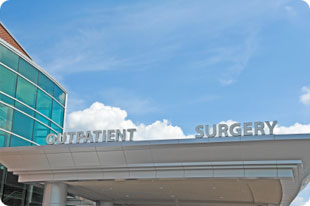 Medical City Surgery Center Fort Worth offers the highest quality of care in a warm, personalized environment. Specializing in outpatient surgery enables us to devote more individual time and attention to our patients.
As a proud member of HCA, tha largest network of outpatient surgery centers and hospitals in the U.S., we are fully certified and licensed by both the State of Texas and the Federal Medicare program. In addition, Medical City Surgery Center Fort Worth has been accredited by the Accreditation Association for Ambulatory Health Care.
Our convenient location offers easy access for patients and physicians in Fort Worth and surrounding areas.
Our Facility
We have taken special care in designing our facility, providing surgeons and patients with a modern and tastefully decorated environment. Our facility offers:
Freestanding outpatient surgery center located in the hospital district of Fort Worth
5 Large State-of-Art Operating Rooms
2 New G.I. Treatment Rooms / High Definition Towers & Scopes
1 Laser Treatment Room
Pre-Operative Admitting Area
Post-Anesthesia Care Area
Comfortable and Attractive Waiting Room
Free Convenient Parking
AAAHC Accredited
ACLS and PACU Certified Nurses
Utilize Block Times for Scheduling
Pathology services available including frozen section
Why Choose Us?
When patients choose Medical City Surgery Center Fort Worth they find it to be more convenient and easier to navigate than a hospital. We offer a number of scheduling options to meet specific needs. Plus, since all of our surgeries are scheduled, your procedure is never bumped or delayed by an emergency case.
Our center offers a comfortable environment with a highly trained medical staff that is focused on offering personalized patient care. We know exactly how many patients we will serve each day and staff appropriately to ensure each patient's visit goes as quickly and smoothly as possible. Because we see surgical patients only in our center, it's less likely for someone else's illness to become yours; in fact, if a patient is ill, we usually will reschedule the procedure for a later date.
Since we do not have the overhead of a surgery facility that offers a wide range of procedures from seriously ill to emergency surgery, our center is typically able to perform your procedure at the same high level of care with the same specialized attention but at a lower cost.
We invite you to explore this website to learn more about our center and we look forward to providing you with excellent patient care.
7 Reasons why it's time you scheduled cases at Medical City Surgery Center Fort Worth:
Starting your cases on time
Rapid Turnover
Accommodating your schedule and increasing your productivity
Anticipating your equipment and supply needs
Responding to your equipment and supply requests in a timely manner
Ensuring clinical excellence with experienced nursing staff
High Patient Satisfaction
Administration
DeeDee Hart oversees the day-to-day administration of our center. If you have any questions, comments, or concerns, feel free to contact DeeDee.